Hi, everyone! I'm super excited about GUTGAA, but I'm out of town for the holiday weekend. I'll have my answers posted and start visiting the other participants Tuesday afternoon. See you then!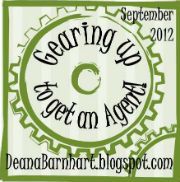 Find out more about
GUTGAA here.
ETA: I never did my mini-bio! :) I am a 34-year-old mother of three (9 yo boy, 7 yo girl, and 5 yo girl). I teach pre-k and Sunday School, and direct the Handbell Choirs at my church. So ... yeah. I generally have a To-Do List a mile long. I write YA.
Usually sitting in my bed. I have a laptop, and my bedroom is usually the quietest place in the house (three kids!).
-Quick. Go to your writing space, sit down and look to your left. What is the first thing you see?
My coffee cup. I have a flowered Tervis tumbler that is my constant companion. LOL.
I'm not sure I have a favorite time. Anytime I can find time is my favorite. (I have three part time jobs and three children, so time is hard to come by!)
-Drink of choice while writing?
COFFEE! Or, after 6pm, water.
-When writing , do you listen to music or do you need complete silence?
I listen to music. I have a playlist for each manuscript. For some reason, I have to listen to it with earbuds, though. If I just have it playing through the computer, it bothers me. (Weird, I know.)
-What was your inspiration for your latest manuscript and where did you find it?
The idea for my latest manuscript came to me while I was doing yoga, and trying to let go of a painful rejection, which brought up the question, "What if I had to use yoga to get past something more traumatic than a rejection?" And my story MEDITATION was born. LOL
-What's your most valuable writing tip?
It's not "what happens next?", it's "what would my character do next?"
Thanks for stopping by! I will be around to visit the other participating blogs throughout the week.